You arrive at your freshly remodeled house, ready to show the property to a young family looking for a rental. After some chit-chat, you slide the key into the doorknob, and when you turn the key, nothing! You have the wrong key, and you will likely lose this tenant. If you are a landlord with more than a few properties, you've probably had problems keeping track of the keys and which door they open. I have been a landlord for over 15 years and figured out the best way for landlords to organize keys for a single-family rental.
The best way for a landlord to organize keys for a group of single-family rental houses is to use re-keyable locks and have about three different keys. When tenants leave, rekey their lock using a different key from your small collection.
Nothing is more frustrating than arriving at a property with the wrong key. This wastes time and can sometimes cost you a qualified tenant. This has happened to me countless times over the years that I've been managing property, and I finally found the perfect solution. I'll explain how to use this key management system and let you know when it's not a good fit.
Why You Need a Key Management System
When I started buying rental houses, I carried the keys on a large ring, each labeled with the address. By the time I had ten properties, there were so many keys on the ring that finding the one I needed was challenging. Sometimes I replaced the locks and forgot to replace the key on my massive key ring. For some houses, the key on my ring didn't work, and I had to wait for the tenant to leave and return the key. I needed to know how landlords organize keys for their properties, but very little information was available.
Labeling each key with the address was helpful, but that introduced other problems. Losing a key or the entire ring is devastating when each key has an address label. The keys may end up in the wrong hands, and the label shows the thief exactly where to use the key. I needed a way to make the keys anonymous.
In many cases, a landlord must provide the key to a contractor for maintenance work. For this reason, you need more than one copy of the key and a way to ensure the contractor gets the correct key. When you have a lot of keys and need several copies, you end up with an unmanageable number of keys. There must be a better way to lend keys to a third party.
It's essential to change the keys when a tenant leaves. After a new tenant moves in, it's not safe for the old tenant to have a key that opens the doors. This could also expose you to illegal action if a problem occurs. How can I easily change the keys without the expense and hassle of buying new locks?
Occasionally I would get a last-minute call from a tenant that required me to enter the property. The keyring was heavy and bulky, so I stopped carrying it. This meant I had to make a trip to get the keys before I could go to the house. How can I easily keep the ever-growing number of keys with me?
The Best Key Management System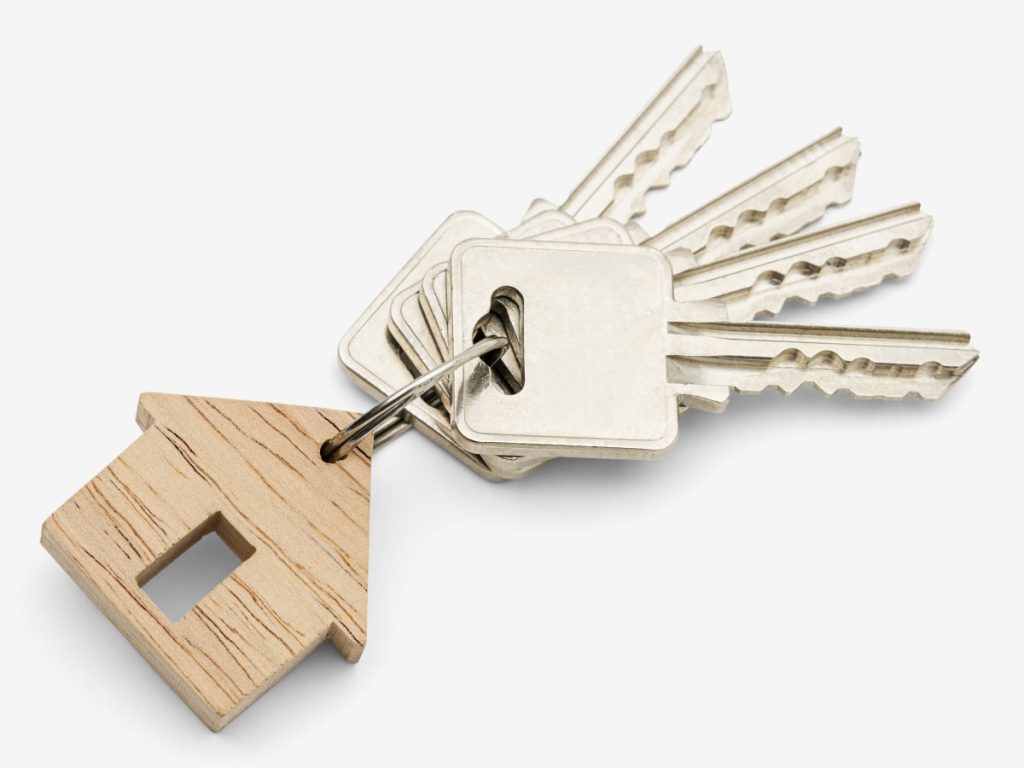 The best key management system for landlords to organize their keys is to have only a few keys for your properties. Each of these keys is different, but no one knows which locks they go with but you. Use a lock that can be easily rekeyed without removing the fixture from the door. When a tenant moves out, you change the existing lock to use one of your keys. Several of these locks, by KwikSet, can be found at Amazon. It's that simple!
When do I ReKey
When a tenant leaves, you don't need to rekey immediately. You can use the existing key to prepare the house for the new occupants. Copies of the current key can be given to contractors and cleaning people to access the property between tenants. You should rekey the lock when you get a new tenant, but not before. Rekeying in front of the tenant can also give them a sense of security because they see that the key has changed.
How Many Keys Do I Need
I suggest starting with three keys minimum so you can rekey as tenants leave. As your number of properties grow, you will need one key for every 40-50 properties. You should always have at least three keys, and you need enough so that houses near each other don't end up with the same key.
Benefits Of This Key Management System
With this key management system, it's easy to keep three keys with you at most times. You could put each key on a colored ring and keep up with which lock goes with which color, but you don't need that with a small number of keys. When you only have 3-5 keys, trying each key is much more efficient than managing a mapping system. In addition, having such a small number of keys makes it easy to give copies to contractors and other professionals that need access to your properties,
How Do I ReKey The Lock
When Not To Use This Method
You should not use this key management system when you have an apartment complex, trailer park, or other multi-family property. You don't want many units that are incredibly close together using the same key. If anyone figures out this system, they will also know where your other locks are; they are their neighbors.
Conclusion
The best way for landlords to organize keys to multiple properties is by having re-keyable locks and a small number of keys. When you need to change the lock, change the key to one of your other existing keys instead. With this approach, you need such a small number of keys that it's easy to carry them with you or issue copies to your contractors. If you are reaching the size that you need to ask how to organize keys, you might like to see what happens when you buy one house a year.